CSS GROUP – 5'S SOCCER TOURNAMENT
CSS Group – 5's Soccer Tournament kicked off on Saturday, 25th February, at Al Barsha. The tournament had two groups, Pool A and Pool B, each consisting of five teams. Each team came attired in their team jersey and were pumped up with gusto in their hearts to lift the 5's Soccer trophy. The matches kicked off at 5.00 PM and concluded at 11.00 PM.
Sports – A Great Team Builder
Sports can be an excellent team-building tool, encouraging collaboration, communication, and camaraderie among team members. Playing in a sports team requires individuals to work together towards a common goal, which can foster a sense of unity and shared purpose.
Furthermore, teams who engage in sports share a common experience that can bring them closer. This shared experience can help create a sense of camaraderie and can provide a foundation for building stronger relationships. Playing sports requires constant communication between team members. Effective communication is essential for winning games and can help improve relationships and build trust among team members.
Teams often face unexpected challenges that require quick thinking and problem-solving skills. Working together to overcome these challenges can help build teamwork skills and improve the team's overall effectiveness. Healthy competition can be a powerful motivator for team members. Competing against other teams can help build a sense of team identity and allow team members to showcase their talents and skills.
Ten Teams Participated:
CSS Kingston – Sharjah
CSS Abu Dhabi
ISS Relocations – Dubai
ISS Relocations – JAFZA
CFS & Transport – JAFZA
SCM – JAFZA
CSS eLogix
CSLC – Team A
CSLC – Team B
CSS HQ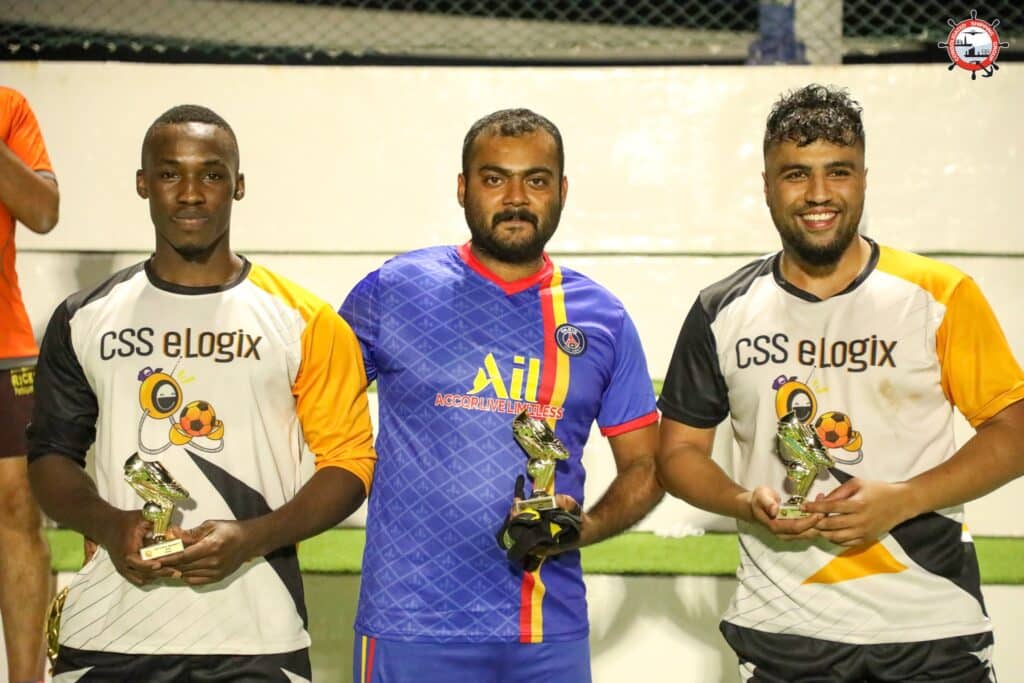 The Soccer Tournament at CSS
At CSS, team-building activity is an essential part of our organizational culture. In the past, we have engaged our employees in various activities to promote teamwork, collaboration, and improved productivity and job satisfaction. Outdoor activity has always garnered great enthusiasm. The 5's Soccer Tournament is a testament to this belief.
By 5 pm, the playground was abuzz with the various teams from CSS, their cheerleading squads, and spectators. With fresh snacks and beverages available at the field, the mouth-watering aromas from the live counters of shawarma, anticipation, and excitement filled the air at Al
Barsha. It was an entertaining and exhilarating evening for players and spectators alike.
Soccer – A Game of Skill and Strategy
Soccer is a sport that requires a combination of physical and mental skills, including speed, agility, endurance, coordination, and strategic thinking. Players must be able to make split-second decisions on the field and work together as a team to outmaneuver their opponents. Soccer is a team sport that requires strong teamwork and communication skills. It was important for each of these teams to establish clear goals and ensure everyone understood their roles and responsibilities. This helped to ensure that everyone was working towards the same objective and could reduce confusion and conflicts within the team.
The Winners – CSS eLogix
Team eLogix proved to be the overall champions of CSS Group – 5's Soccer Tournament. Their teamwork, determination, and indomitable spirit are truly commendable. Their hard work and perseverance paid off in the end. The dedication and commitment of each and every member
of the team were truly noteworthy!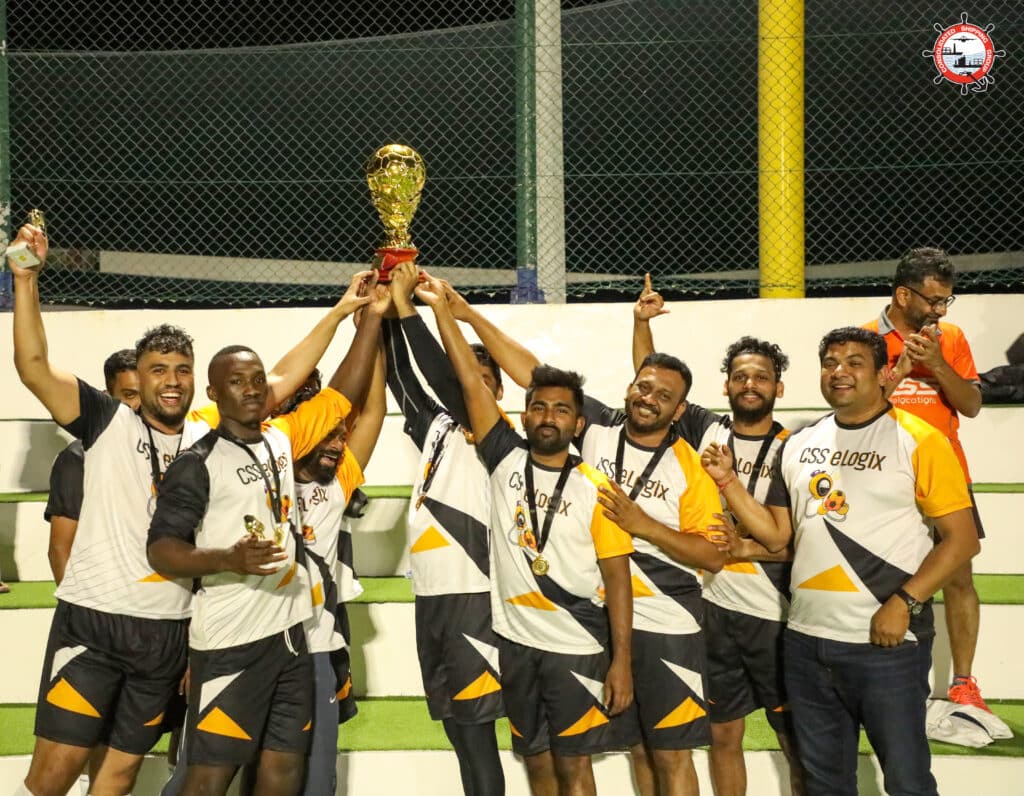 The runners-up at the tournament were CSS HQ and CSS Abu Dhabi. CSS -HQ was in second place, while CSS Abu Dhabi came third. Both these teams were fully invested in their game, motivated to do their best, and proved to be worthy opponents. They took risks, were courageous, and had a never give up attitude till the end.
Playing a sport with passion is more than just winning or losing. CSS HQ and Abu Dhabi team members played with their hearts, embodying the true spirit of the game! By participating in this friendly football match, employees learned to work together towards a common goal, build trust and camaraderie, and develop a sense of unity and shared purpose. They also learned to communicate effectively on and off the field, which can now translate to improved communication in the workplace.
Sports For Better Productivity and Job Satisfaction
Furthermore, playing soccer or any sport can greatly relieve stress and improve mental health. Such exercise and physical activity have been shown to reduce anxiety and depression, improve mood, and increase overall well-being. The tournament has also motivated many to adopt a healthy and active lifestyle, which can lead to improved productivity and overall job satisfaction.
When you play any sport passionately, you experience a sense of joy and fulfillment that comes from knowing you have given it your all. They felt alive and energized, and the challenges and obstacles they faced on the field have become opportunities for planning, growth, and learning.
Many more such tournaments have been planned for the year. Each team is working hard, learning from their previous mistakes and improving their skills to increase chances of success in the future.